To work towards its stated objective, SIFL has put together an eclectic team of professionals. These include former and current bankers, both from the public and private sector, chartered accountants, economists from academia and industry, and public policy experts. The modus operandi is up to date educational material and training modules that are delivered through seminars and classroom teaching. These are meant to be both in-house for organizations and available to others interested through open enrollments.
The management of SIFL is headed by Mr. Kupple Dev Lamba and Mr. PV Rao.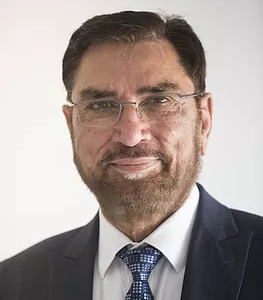 Mr. Kupple Dev Lamba
Founder – SIFL: Mr. Kupple Dev Lamba, a professional banker from Jammu & Kashmir, has over 40 years of banking experience. He was a Universal Banker and served as the Chief Executive Officer of Hinduja Bank, the CEO of Bank of Baroda New York, and the CEO of Bank of Baroda London. Mr. Lamba is currently the Director of Nishtha Advisory, a banking and financial consultancy firm. He has set up Satyadevi Institute of Financial Learning in the memory of his late mother.
Mr. P V Rao
Chief Executive – SIFL: Mr. P V Rao is the former Chief Executive of SBM Bank (Mauritius) Ltd. He is a veteran banker with extensive experience in retail banking, financial markets, and treasury operations. As an educational consultant and visiting faculty, Mr Rao has been associated with ACI Dealing CertificateTraining for foreign exchange dealers in India, NIBM Pune, Gitam University Visakhapatnam, MCX Exchange, Bank of India Training College and Canara Bank Training College.